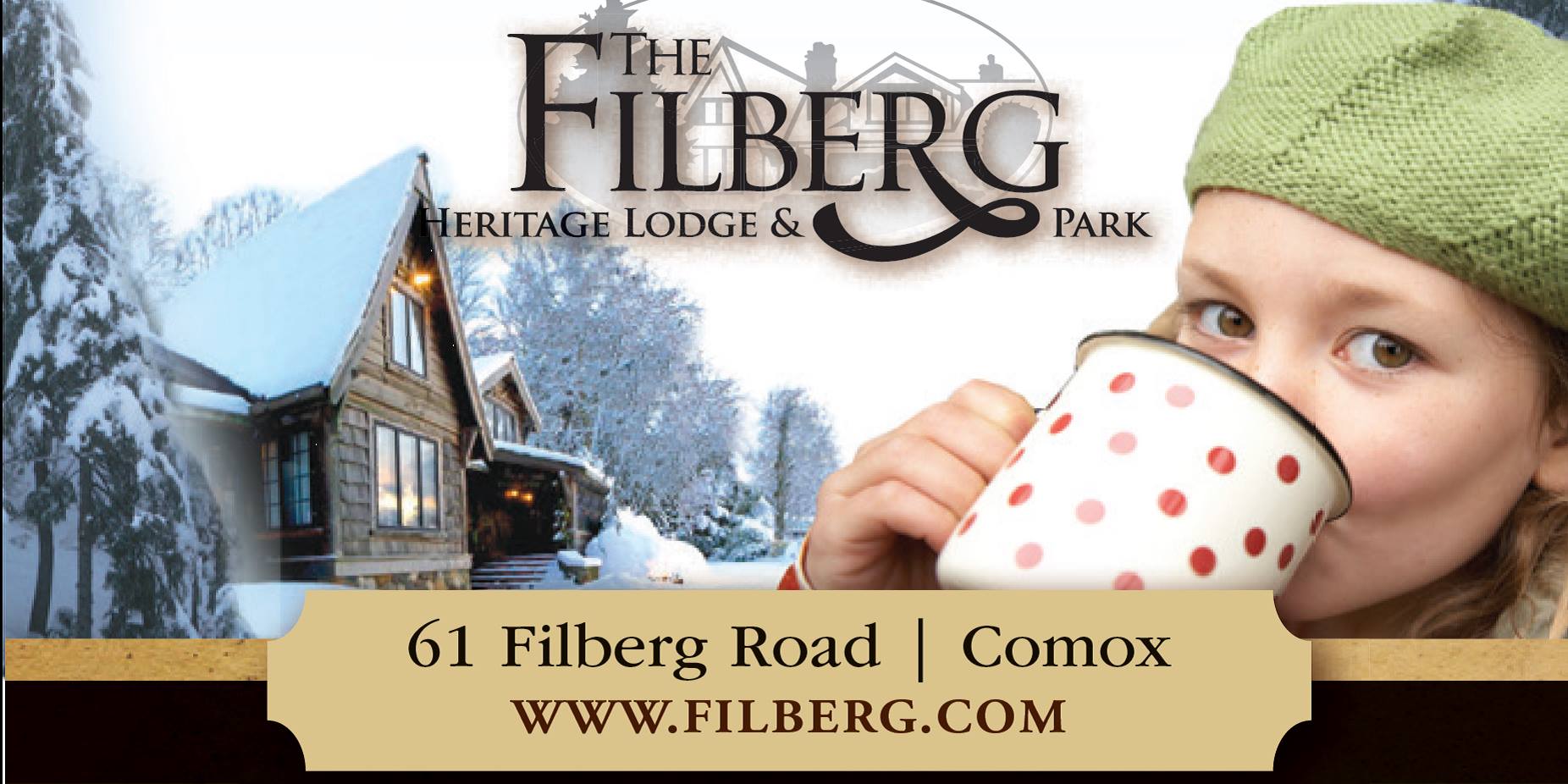 CHRISTMAS AT THE LODGE AND HOLIDAY MARKET
This event has been postponed until 2021
'Tis the season…. and what better place to prepare yourself for the holidays than at the beautiful Filberg Heritage Lodge and Park.  Step back in time and join us for a classic Christmas in the Park.  Get your seasonal shopping done at the same time with a host of fine artists and gourmet gift ideas.
Event takes place annually over the last weekend of November. Entrance is FREE. Drop in for a power shop or bring the whole family and also enjoy festive treats, baking, music and Christmas tree decorating.   Fun for all ages; kids activities will be available each day.  Did we mention Santa will be stopping by?
Light lunch fare, seasonal treats along with wine and beer will be available in the Summer Kitchen by Custom Gourmet Catering.  Check out the  Filberg Holiday Bake Sale fundraiser, Festive Botanicals from our Cutting Garden Group and  make sure to purchase a Holiday Raffle ticket (or two)  for a chance to win fantastic prizes.  With over 30 vendors, food and entertainment there is sure to be something to please everyone.
This event is FREE
Please, no dogs in Filberg Park
No ATM on site
Tag us: #filbergchristmas #filberglightup #filbergpark
Presented by the Filberg Heritage Lodge and Park Association
The Filberg Heritage Lodge and Park Association (FHLPA) is a non-profit organization established in 1979, which has the responsibility of maintaining and restoring the heritage lodge and outbuildings in the park. All money raised by the FHLPA from membership sales, donations, special events and year round fundraising are used for this purpose and for the operational costs associated with managing the Filberg Park for the community to enjoy. Learn more on our ABOUT page.
All event inquiries to lodge@filberg.com.
2019 Christmas Vendors
Over 30 talented Artisans and Crafters are waiting to tantalize you and assist you with your holiday shopping.
As You Like it, Union Bay Catering
A wide variety of sauces, chutneys and jellies, made with locally grown ingredients in small batches with love
As You Like It
Lodge - Dining Rm
Bella Style Jewelry
I repurpose vintage beauties into new jewelry pieces.
Bella Style Jewelry
Remax Marquee - Dairy Barn
Botanical Bliss
Hand Made – Locally Grown – Wild Crafted Products
Botanical Bliss
Lodge - Master Bdrm
Custom Gourmet Chef
Hot food, warm drinks and more. Stop in for a snack.
Filberg Summer Kitchen
Summer Kitchen
Dan Walker Designs
a talented silversmith who loves working in metal. He draws inspiration from nature and travel.
Lodge - Master Bdrm
Dianne's Crafts
Up-cycled handmade fur teddy bears and Santa's
Lodge - Dining Rm
Donovan's Leather
Quality leather products, hand made right here in the Comox Valley.
Donovan's Leather
Dairy Barn
Elsewear
Merino wool clothing for men, women and children by Hilary Else
Elsewear
Lodge - Master Bdrm
Entertainment and seating
Listen to the Military Wives Choir on Saturday 11 am to 12:30 pm
Military Wives Choir Comox
Quality Foods Courtyard Marquee
Faithful Friends - Grain Free Treats
Pet treats made with love, by hand, from all natural grain-free ingredients
Faithful Friends
Remax Marquee - Dairy Barn
Fantastic Fibres
Hand Knit/Felted and woven accessories and more
Fantastic Fibres
Lodge - Breakfast Nook
Filberg Bake Sale
Home made goodness
Summer Kitchen Marquee
Filberg Cutting Garden
Fresh Wreaths,Table Arrangements and swags
Arbour Marquee
Filberg Gift Shop
Vintage collectibles and more…
Filberg Gift Shop
Lodge - Upstairs
Filberg Membership/Raffle
Get your 2019 membership and enter to win 1 of 6 great prizes in our annual Holiday Raffle
Summer Kitchen Marquee
Heavenly Libations
specializing in refreshing beverages inspired by time-honoured traditional Shrub recipes
Heavenly Libations
Summer Kitchen Marquee
Hornby Island Winery
Handcrafted Fruit Wines
No Preservatives
No Sulphites
​No Added Sugar

Hornby Island Winery
Summer Kitchen
Kids Area
Decorate the tree, kids crafts
Small Arbour Tent
L'Arche Comox Valley
All our crafts are handmade in the L'Arche studios by people with and without developmental disabilities, and every piece is unique.
L'Arche Comox Valley
Summer Kitchen
Lavender Lampworks & Pottery
Italian glass beads, yarn bowls, pottery buttons and Pendants combining pottery and Italian glass
Lavender Lampworks & Pottery
Summer Kitchen Marquee
Living Earth Pottery
Lightweight and refined stoneware and porcelain pottery made locally by Katy Fogg
Living Earth Pottery
Remax Marquee - Dairy Barn
Long Lake Studio, Lost Time Creations
Lost Time Creations, eclectic, original, handcrafted
Long Lake Studio
Lodge - Living Rm
Lunar Reflections
a diverse line of Jewellery, Glassware, Pewter, Stained Glass, Wood Turning, Leather & Fabric Wearable Art, Home and Garden Décor and more...
Lunar Reflections
Lodge - Master Bdrm
Made with Love Jellies and Jams
Handpicked Fruit! Only the best goes into my jellies and jams
Made With Love Jellies and Jams
Dairy Barn
Remarkable Honey and Candles
Pure honey and handcrafted beeswax candles
Remarkable Honey and Candles
Lodge - Bob's Office
Ren's Quilted Gifts
Beautiful Reading/Book Pillows, embroidered and quilted with children in mind. Also a collection of lovely free standing Lace Christmas Ornaments and Christmas Mug Rugs
Lodge - Master Bdrm
Royston Roasting
Organic Coffee Roasters and Coffee House treats
Royston Roasting
Remax Marquee - Dairy Barn
Sassenach Cowls
Outlander Style Hand Knit Cowls, Fun Hats, Felted Soaps
Sassenach Cowls
Arbour Marquee
The Mustard Lady
When Flavour Counts, taste the difference with the Mustard Lady
The Mustard Lady
Lodge - Master Bdrm
The Rock Guy
Polished stone coasters and more
Dairy Barn
Turquoise Poppies
Wrist warmers and Yoga Socks from re-purposed Sweaters
Turquoise Poppies
Lodge - Living Rm
Waterlily Studio
Hand painted, all original Christmas and All Occasion greeting cards and Technique Classes.
Waterlily Studio
Lodge - Living Rm
West Coast Wild Scallops
Wild scallops and seafood caught on the west coast of British Columbia.
West Coast Wild Scallops
Garage - between Summer Kitchen and Lodge
Wood by Fayeran
Featuring hand made, wooden bookmarks and Christmas ornaments, with plenty of designs to choose from.
Wood by Fayeran
Summer Kitchen Marquee