LIVE! IN FILBERG PARK SUMMER 2021
Filberg Summer Pop-up Market July 24th and 25th, 11 am to 4 pm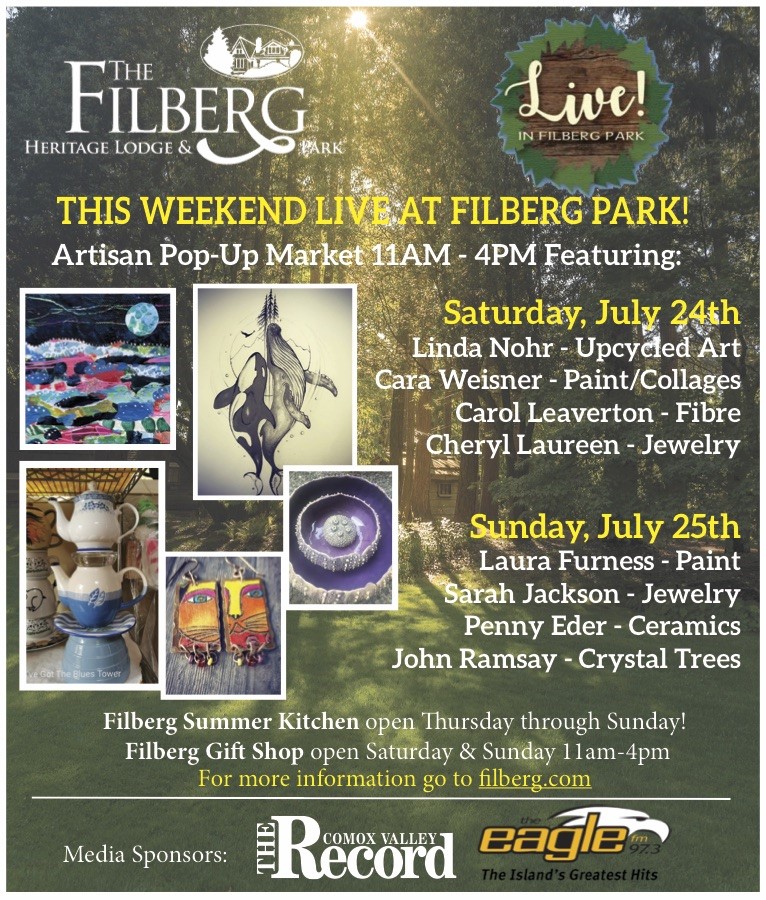 Filberg Gift Shop
is open from 11 am to 4 pm Sat & Sun
Filberg Summer Kitchen
is open from 11 am to 7 pm Sat & Sun
If you haven't been to Filberg Park lately this is a great summer to check us out!
You never know what you might find in Filberg Park on any given Saturday's or Sunday's this summer.
Want to be involved?
Are you an artist or artisan? Are you looking for opportunities to sell your products, face to face? The "old fashioned" way?
Why not consider joining the excitement and activities at Filberg Heritage Lodge and Park this summer! This is an opportunity for local crafts persons to showcase their creations and becoming part of the summer park weekend experience. We are seeking applications of interest from local artisans to have access to a small number of one- day "Pop Up" booths in the park. Diversity and uniqueness will guide the schedule to ensure variety and equity amongst vendors.
For more information and to apply for spots this summer please contact events@filberg.com to receive the application form.  There is a nominal fee per day for vendors.
Volunteers needed
Do you have some time on your hands this summer? Do you miss talking to people? We are looking for some Volunteer Ambassadors for the Summer Pop-Ups. If you are interested or would like more information please email Carol at em.cee@shaw.ca.