Join Toni-Rose Carvalhal and Yvonne Maximchuk at their joint art show this weekend in Filberg Lodge. Come by anytime May 12th or 13th, 2018 from 10am – 5pm. 
Paintings, prints and other works of artful creativity will be on display through out the historic Lodge from the two Vancouver Island Artists. Read on to learn about the artists…
Drawing and painting have been a passion of mine since I was a very young girl. Apart from high school art courses, I completed a correspondence course from Art Instruction Schools. My late father in law, the very talented artist Charles H. Smith, was my first mentor. I have continued to further my skills through varied workshops as well as classes at the Vancouver Island School of Art.
Acrylic painting is my specialty, with an emphasis on capturing a mood and eliciting an emotional connection to the piece through paying particular attention to light, perspective and composition. I have accepted many commissions over the years, ranging from portraits and figurative works to florals, landscapes and very large outdoor murals.
My paintings have been exhibited many times in "Gallery by the Sea" in Sidney, B.C., winning the "People's Choice" award on four separate occasions. In 2016, I participated (as one of his students) in the popular "Go Figure" art show with Nicholas Pearce, and in 2017 I entered and was accepted into the juried Sidney Fine Art Show. Also in 2017, I was invited to participate in the first annual Winter Wonderland art show at Painter's Lodge, Campbell River.
As a member of the Saanich Peninsula Arts and Crafts Society, I am involved in many opportunities for continued learning as well as showing my work publicly amongst a community of fellow artists and artisans. Four of my paintings will be shown at the annual Spring Show April 28th & 29th at the Mary Winspear Centre in Sidney, B.C.
Through our mutual participation as invited artists at Painter's Lodge last fall, Yvonne Maximchuk and I made the decision to have a show together at beautiful Filberg Lodge. I am thrilled to display my work in such a lovely setting with another like minded, talented artist on such a special (Mother's Day) weekend.
Hope you enjoy our show, "By The Sea, By The Sea, By The Beautiful Sea"!
Contact Toni-Rose via her Facebook page, "Toni-Rose's art" or by email, trcarvalhal@hotmail.com for more information or to share any ideas for commissioned work.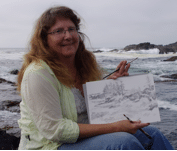 Yvonne Maximchuk, born in Bralorne B.C. 1952 has been a working artist her entire life. Her subject material and style vary in response to the astonishing array of subjects to paint and ways to paint them. A mastery of expressive watercolor has been the mainstay of her artistic endeavors for many years. In larger acrylic on canvas paintings Yvonne explores themes stimulated by not only the aquatic 'place' she calls home but also the history, geography, flora and fauna of the oceanside world she inhabits. As well she is a potter, engaged in the continual challenge of designing new and beautiful functional ware for daily use.
Yvonne has a natural teaching talent and fulfilled a dream of creating an art retreat at her home/studio near Echo Bay. She has a strong belief in the healing power of self–expression and promotes and supports the artistic development of everyone she meets. With Bill Proctor, Yvonne has co-authored two published books, "Full Moon Flood Tide" and "Tide Rips and Back Eddies." "Drawn To Sea", her auto-biography published in 2013, chronicles thirty years' experience homesteading, fishing and painting the Broughton Archipelago and the BC coast.
Yvonne's latest book, an adult colouring book, "Colour the British Columbia Coast" is available now, and she is working on her next book, a mystery novel set in Echo Bay.
Contact Yvonne: 250-974-8134
searosestudio@hotmail.com
www.yvonnemaximchuk.com