VOLUNTEER OPPORTUNITIES
Volunteers are a integral part of everything we do, from Lodge tours to the Board of directors, there wouldn't be a FHLPA without them! We have loads of great volunteer opportunities for every interest and skill set, check them out! 
Lodge Tour Guide
Take visitors through the Lodge and share interesting facts and stories about the construction, the history and the Filberg family and their legacy to the Valley. Lodge tours are available on weekends starting in the spring and can be privately booked through the office for other times. Volunteer shifts in the Lodge are  a minimum of 2.5 hours /day.
Gift Shop
The Gift Shop is open on weekends starting in the spring  and sells donated items and some new inventory. Gift Shop volunteers staff the Gift Shop, help with Lodge information and sometimes sell memberships or tickets for events. Retail experience is not necessary as new volunteers are paired with an experienced person until they are comfortable with shop routines. Shifts are  a minimum of 2.5 hours.
Cutting Garden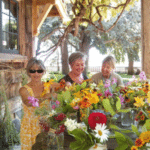 The Liz Stubbs Cutting Garden is located on the bottom lawn near the Summer Kitchen. It's the fenced area with a splendid ocean view making it a fabulous place to tend to the Cutting Garden. Volunteers plant, weed, propagate and make floral arrangements flowers which are used to decorate the Lodge and are also sold in the park to raise funds for the maintenance and operations of the park. This volunteer opportunity is especially appreciated by those who love to garden but no longer have a space of their own. Volunteer hours are flexible and may vary with the gardening needs and the weather.
 Special Events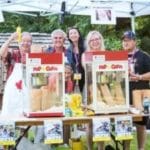 There are many special events held in the Lodge and on grounds (i.e. Easter Bunny Trail, LIVE! In Filberg Park Concerts, Apple Press Party, Christmas at the Lodge and more). Volunteers assist with setup/takedown and staffing these events. Many events are on weekends or evenings so these jobs would be suitable for those who are busy but would still like to help out once in a while. The time commitment varies and some people help with one event while others attend them all.
Park Projects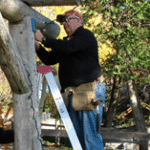 From time to time there are things to do in the park that need the assistance of a few able bodied people that are comfortable with climbing ladders or more physical tasks. (Putting up and taking down storm windows or Christmas lights, small building projects…) The people who volunteer for these jobs usually get called a few times a year for a few hours  and will work with direction from the Facilities Manager.
Filberg Festival
The Filberg Festival happens on the BC Day long weekend. Over 200 volunteers work this weekend and contribute hugely to its success. Volunteers are asked to contribute a minimum of 8 hours over the Festival four days and are rewarded with free Festival admission for their hard work. For further information on the jobs available for this weekend visit the Filberg Festival website.
Board Members
The Board of Directors is the governing body of the FHLPA. The Board meets once a month to discuss Association business and each director has portfolios of responsibilities for a different area which contributes to the running of the Association.  All the Board Members are elected to serve a 3 year term. This is a working Board so the hours will be more than other volunteer positions.
More Information
Volunteers are asked to commit 4 hours a month through the high season.
Shoulder season April/May & Oct./Nov./Dec. High season June through September
For all information on volunteering for the Filberg Heritage Lodge and Park Association, please contact the office; lodge@filberg.com
printable volunteer application
DONATE
Did you know that cash donations to the Filberg can be used as a Tax Deduction?
Did you know that you can donate publicly traded securities to the Filberg and pay zero tax on any Capital Gain and get a tax deductible receipt for the fair market value of the security?
Did you know that bequests may be left to the Filberg in a will and that the Estate would receive a tax deductible receipt?
Did you know that you can name the Filberg as a beneficiary of your life insurance policy and that you would receive a charitable receipt based on its cash surrender value plus accumulated dividends, as well as a charitable receipt for your yearly premiums?
Did you know that you can contact the Filberg Lodge for more information on any of these ways to contribute to the Filberg?
Donations are very much appreciated for the ongoing maintenance and operation of Filberg Park. Click "Donate" below to make a donation with your credit card or PayPal account. You can enter the amount in the next window. Thank you.