Filberg Grounds and Gardens
Open year-round, the landscaped grounds contain rare and exotic trees, a stream and numerous flowerbeds. Meandering the paths and open meadows are perfect for a stroll, a picnic, or quiet contemplation.
Pollinator Week June 19 – 25, visit Filberg Park and participate in our Pollinator Week celebration.
Follow our pollinator story walk that begins in the pollinator bed. Take an adventure through the Park and read all 14 storyboards to learn about different types of pollinators and why they are important.
Find our 15 white rocks with pollinators painted on them as part of our scavenger hunt (please ensure not to take the rocks so everyone can take part).
Take your photo in front of our two sets of butterfly wings at the Dairy Barn and Chicken Barn.
Enter to win one of our two kids' pollinator-themed gift baskets.
On Thursday, June 22nd, join us on the lawn in front of the Lodge for a fun pollinator week craft with our volunteers.
Thanks to our volunteers, our Gardener Tryna, Gone to Seed Little Library, and the Town of Comox for making this week of celebrations possible.
Each Spring, our Gardener, Tryna, plants roughly 100 flats of annuals in various colours in flower beds throughout the Park. You can enjoy our annual displays in the beds on the front lawn, the arbour, and along the driveway. Zinnias and Begonias, which are also deer resistant, are some of the favourites used in the Park.
Our Gardener, Tryna, initiated the set up of the rocket box-style bat house in our Park. The bat box is located along the fence line by Gate 1.
Bat boxes provide safe, dry roosting sites for hundreds of bats through the summer months. Bats play a vital role in maintaining healthy ecosystems, and a single little brown bat can eat hundreds of night-flying insects in an hour, greatly reducing our need to use chemical pesticides.
There are 16 bat species in BC, and half of these are considered to be vulnerable or at risk of extinction. Many factors have affected the North American bat population, including habitat loss due to urban development, roost disturbance, and the introduction of White Nose Syndrome, which has resulted in the death of millions of bats across North America since 2006.
Learn more about the BC Community Bat Program here. 
Tryna is a certified Butterflyway Ranger through the David Suzuki Foundation and has created a pollinator garden designed to support butterfly populations, you can find our Butterflyway Bed on the west side of the park near Symbiosis.
The Butterflyway Project is a citizen-led movement to bring nature back into our gardens by planting butterfly-friendly native plants.
Click here to learn more about the program and to plant a butterfly-friendly garden.
Certified Wildlife-friendly Habitat
Our Park was certified as a wildlife-friendly habitat by the Canadian Wildlife Federation on February 3, 2021. This means that the Park has met the needs of wildlife with food, water and shelter by using wildlife-friendly gardening methods. 
Native plants are planted throughout the grounds, and no pesticides are used in the Park.
Learn more about the Canadian Wildlife Federation by clicking here. 
We have a green roof on our pump house (located along the hedges between Gate 2 & 3). This specially constructed roof has a thick rubber membrane lining and is topped with several inches of soil allowing us to have a fabulous rooftop display.
In the Fall of 2021, 300 Narcissus bulbs were planted on the roof and overseeded with a custom native seed blend for shade to benefit pollinators.
The Herb Garden was initially installed in 1982 and hosts a variety of annual and perennial herbs. The garden is designed and maintained by a team of volunteers from the Comox Valley Horticultural Society.
Each year Mason Bee houses are installed throughout the Park.
Mason bees are a solitary bee species native to North America and are important early-season pollinators. Mason bees tend to be active earlier in the day than other pollinators and are among the first to break dormancy in the spring making them especially beneficial for fruit tree pollination such as apple, plum and cherry. They are also one of the few native species used for agricultural use.
Native pollinator populations are in decline and we use mason bee nesting blocks to help educate and raise awareness.
Learn more about pollinators here.
Tryna has worked hard to create nectar-rich native plant combinations in our beds to attract pollinators. Pollinator populations are globally in decline, and we'd like to do our part to help. The pollinator bed in the meadow has been intentionally planted with native nectar and host plants to support pollinator populations in all life stages. Leaf litter is left in place, and logs and a rockery were added to provide shelter for overwintering insects. Patches of ground are left bare for ground-nesting bees.
As the hedgerow at the rear of the bed fills it in, it will also provide valuable nesting habitat for bird species and host plants for butterfly larvae.
Have you ever wondered how many Spring bulbs Tryna plants each year?
600 Spring bulbs are planted in the Atlas bed, 250 in the raised beds, 200 along the beachfront fence line, 250 in the front bed of the Lodge, and a touch of whatever Tryna thinks will bring her joy.
The bulbs are planted each Fall and lifted in late Spring to make way for the annual display. The bulbs are stored for the Summer and replanted the following Fall. Bulbs are used on a two-year cycle in the display beds, and then are distributed throughout the Park.
The Town of Comox and Filberg Heritage Lodge and Park Association have teamed up to bring our visitors "The Trees of Filberg, A Self-Guided Walk." This will allow our visitors to use our guide to tour the Park while identifying many different tree species and unique plants. The Walk is divided into 6 sections if visitors want to break up the Walk. 
We hope that you enjoy this Self-Guided Walk. Trees of Filberg Park A Self-Guided Walk
When walking through the Park, you may see what looks like dead trees, but they are more than just that.
A wildlife tree is a living, dead, or a bit of both with deadwood features that provide habitats for cavity-dwelling species. Wildlife depends on dead wood to create needed habitat. These dead trees are an essential part of our forest ecology.
Greig Rhododendron Collection
Greig's Royston Nursery, owned by Ted and Mary Greig, Royston BC, were experts at propagating different species of Rhododendrons.
In 1965, Ted and Mary Greig decided to close their nursery in Royston. They sold most of the remaining rhododendron collection as one single collection to the Vancouver Parks Board. You can find these rhododendrons in Stanley Park, Queen Elizabeth Park, and VanDusen Botanic Garden. You can also find Greig rhododendrons at a few sites on Vancouver Island, including Filberg Park,  Milner Gardens, Finnerty Gardens, and Playfair Park.
In 1966, Ted and Mary Greig were jointly given the Gold Medal of The American Rhododendron Society for their pioneering work on cultivation, selecting and identifying species and hybridizing rhododendrons.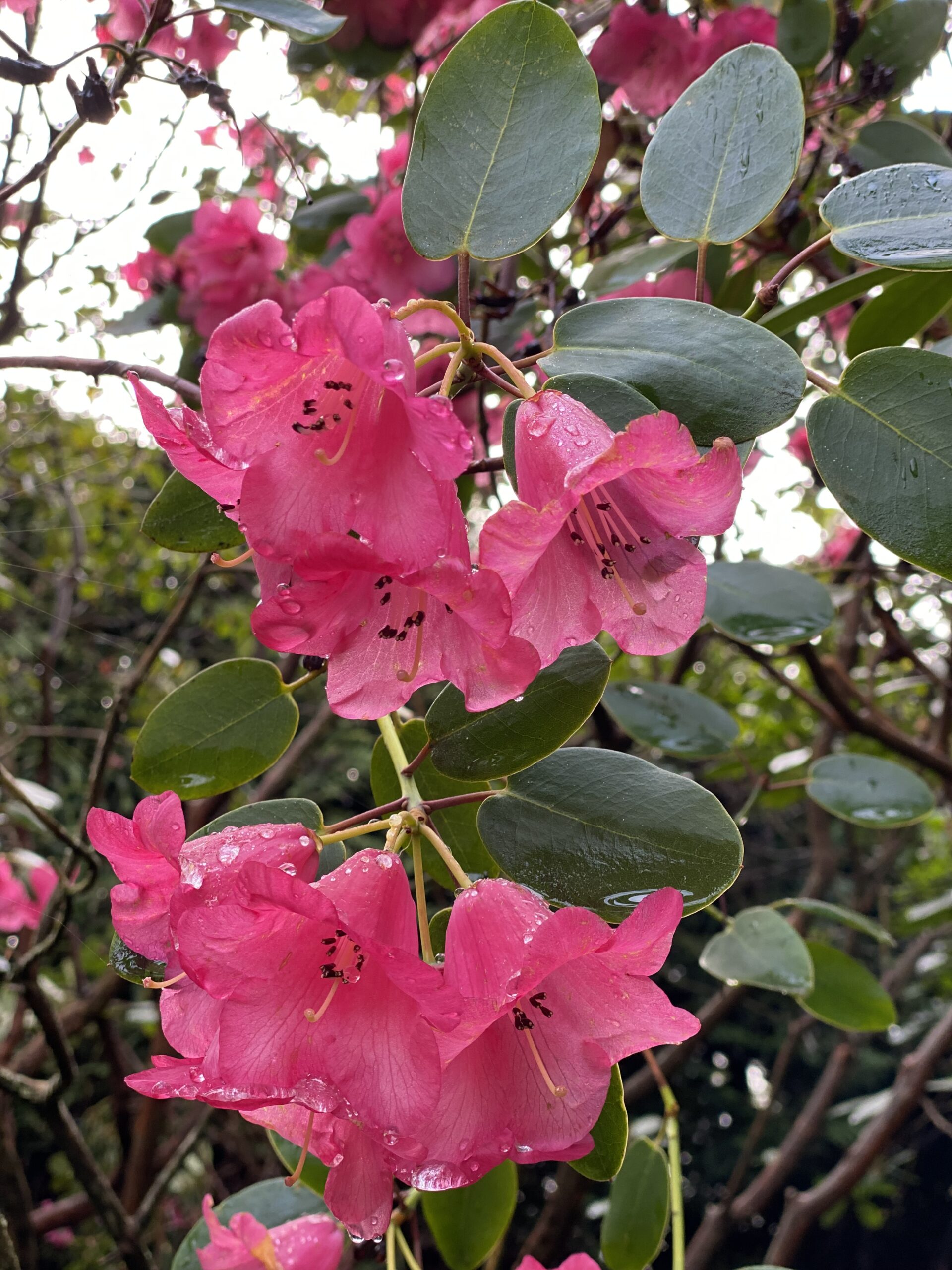 Our Petasites is probably one of the most asked-about plants in the park and rightfully so! Massive lily pad-shaped leaves on tall stalks easily reach 4′ each season, this plant is a show stopper and a popular backdrop for many photos. 
The Atlas cedar above the Petasites is a popular place for our heron to hang out.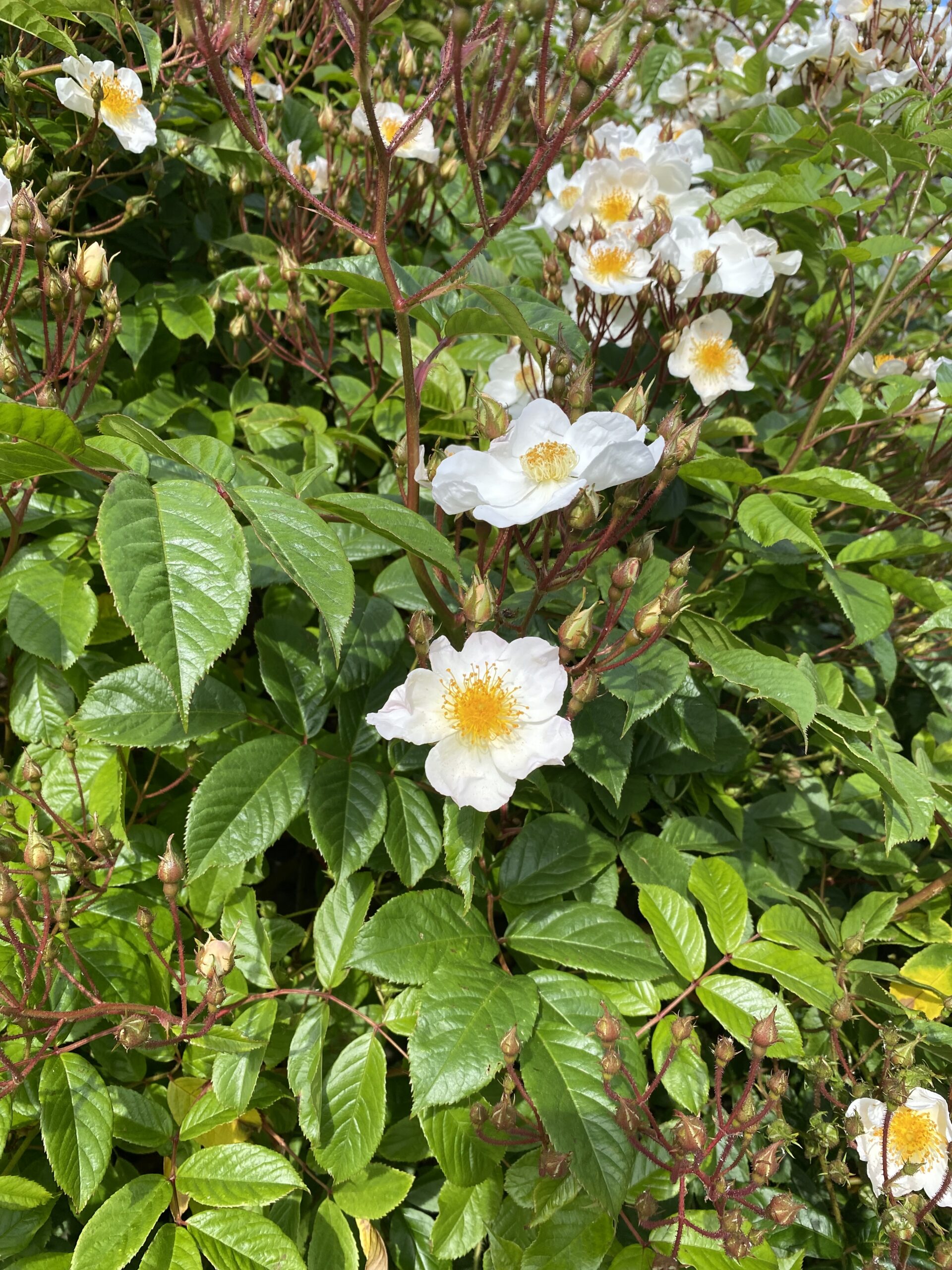 Old Rose Nursery on Hornby Island
In 1996, our former gardener, Joe Pendak, planted roses from the Old Rose Nursery on Hornby Island. The Kiftsgate rose is a tall, rambling rose that bears an abundance of small white flowers with a musky fragrance and blooms in June. You can find this rambler on the Summer Kitchen roof. The Rosa mulganii is a vigorous rambler that has glossy foliage and large clusters of white flowers followed by red rosehips that persist through the winter. You can find this rambler on the Boat House roof.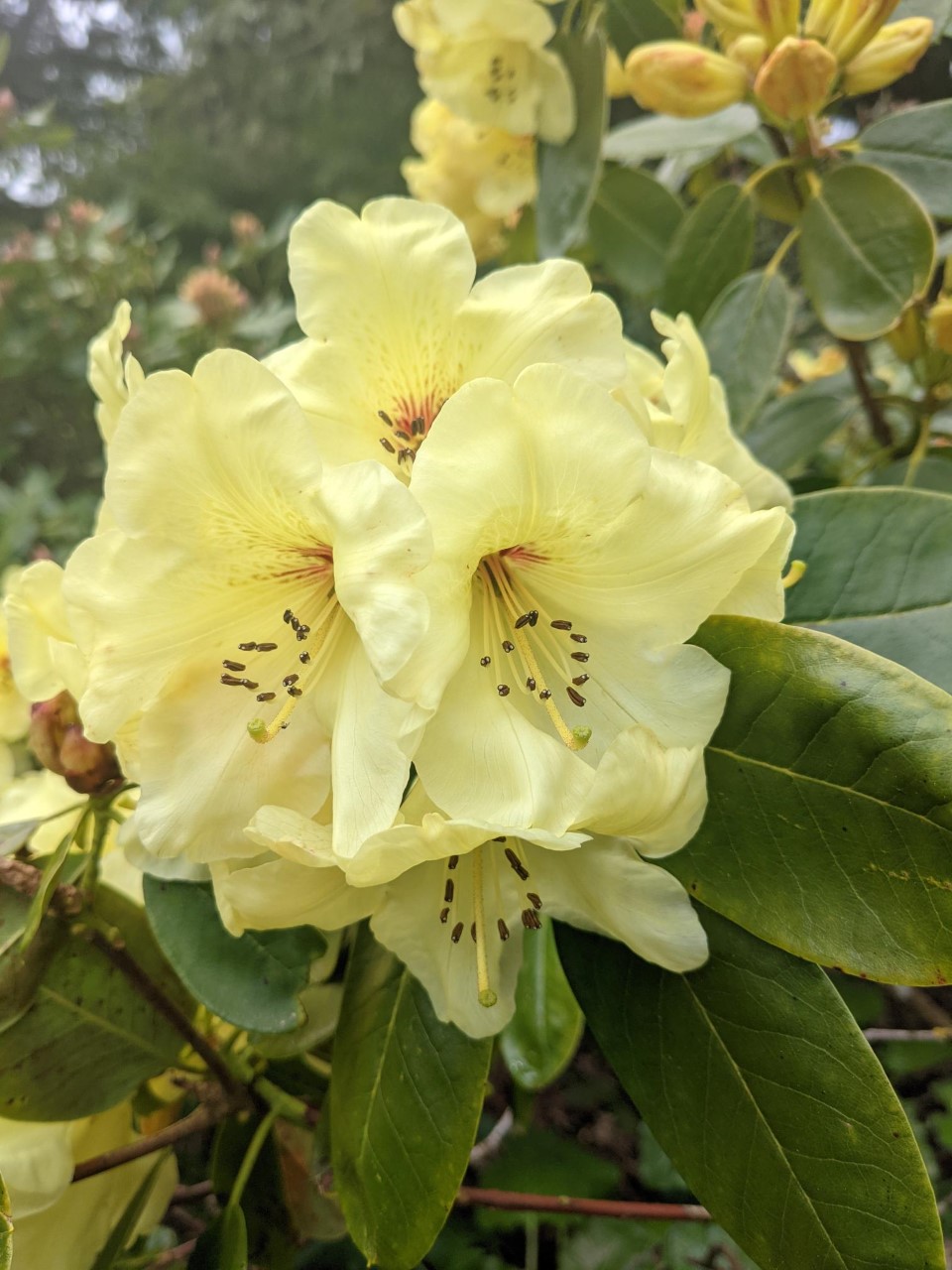 Harry Wright Rhododendrons 
Gwen and Harry Wright donated some of the Rhododendrons in the garden bed located on the West side of the Park. Harry Wright was a founding member of the North Island Chapter of the Rhododendron Society. He received awards from the American Rhododendron Association for his work hybridizing rhododendrons.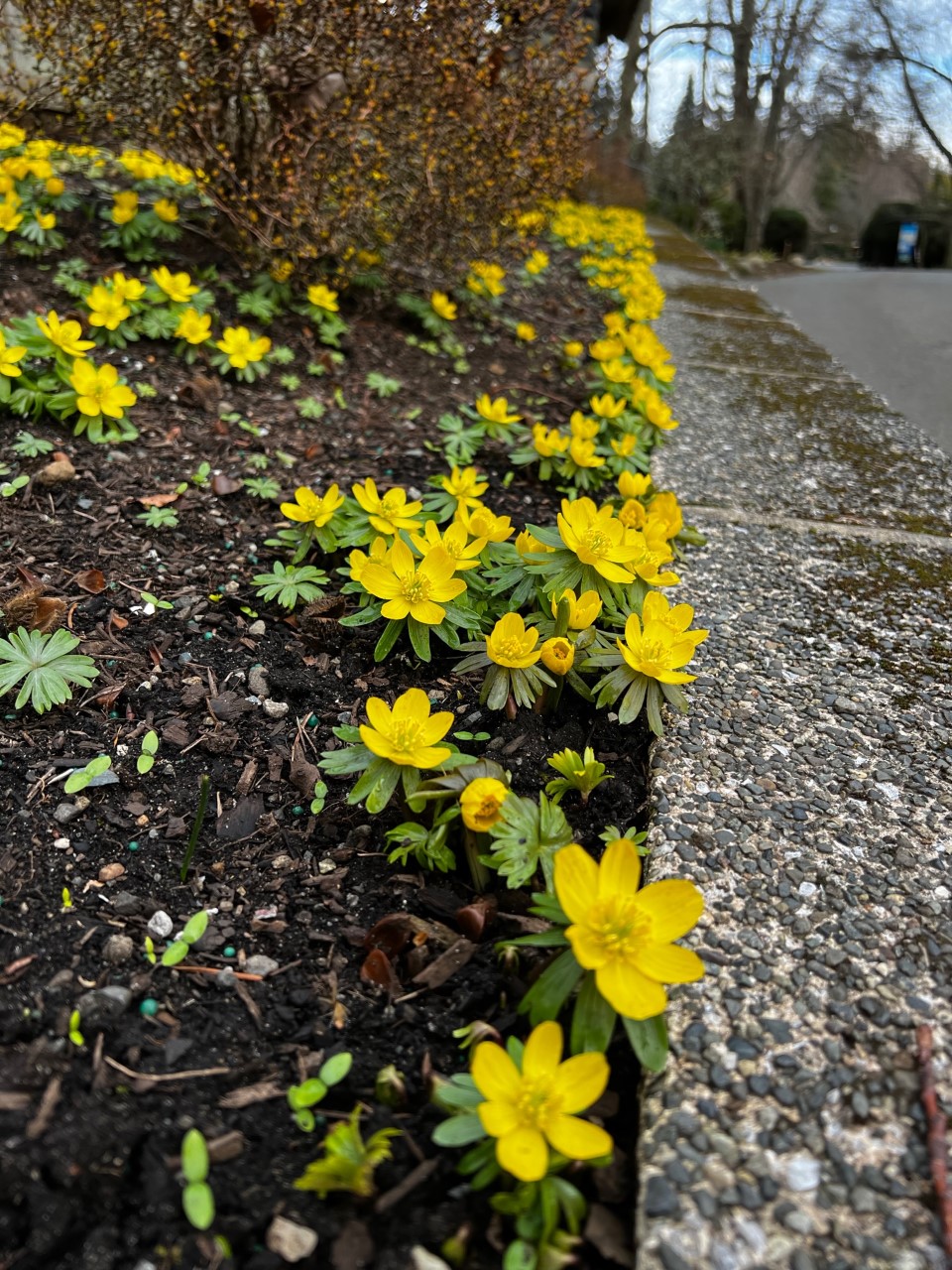 Eranthis hymemalis commonly known as winter aconite. These perennials will grow up to 6 inches. They appear late Winter each year and are one of the earliest plants to bloom. They have large yellow cup-shaped flowers surrounded by divided leafy bracts. They are easy to grow and naturalize. 
FHLPA & Town Of Comox
Partnership
The Park is owned by the Town of Comox and operated by the non-profit Filberg Heritage Lodge and Park Association since it was designated a municipal heritage site.
Grounds and Gardens
Maintained by the Town of Comox
The Filberg Park has one gardener on-site year-round employed by the Town of Comox Parks Department. 
Tryna McLean
Filberg Park Chargehand, Town of Comox
For inquiries, contact Tryna McLean at tmclean@comox.ca.