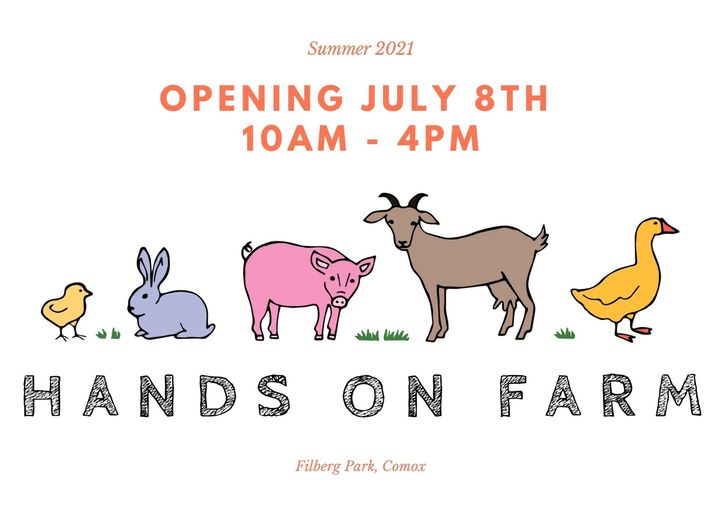 Talk With the Animals…
We're closed for the season. See you in June 2022
FMI Call 250-207-FARM (3276) or email farmer1@comox.ca starting June 1st for more information. You may also call Comox Recreation for more information about programs at the Hands on Farm 250 339-2255
Stay up to Date with the Hands on Farm
Follow us on social media to stay up to date regarding opening, hours, admissions, etc. Check us out on Facebook at Comox Hands on Farm or Instagram at Comox Hands on Farm.
Hours & Admission

7 days a week from mid-June to mid-August 10am to 4 pm 
$6 1 – 3 people in family
$10 4 – 6 people in family
$40 Barn Yard Family Summer Pass (1-6 people)
Volunteer at the Hands on Farm
Attention Comox Valley 13+ Youth! Do you love animals, working outdoors, and meeting like-minded peers? Consider applying to volunteer with the Hands on Farm this summer! You will spend your time helping with animal care, feeding, cleaning, and maintaining the barnyard. Orientation will be taking place June 29th and 30th. You will be asked to attend only one session. Application for can be found below. Please fill this out and email to farmer1@comox.ca by Monday June 14th, 2021. Contact us at 250-207-FARM (3276) or farmer1@comox.ca with any questions! Looking forward to working with you at the farm this summer!
Farm Club
Learn all about the care of our farmyard friends! Assist with animal feeding and grooming, cleaning chores and meet and greet guests to share your knowledge of the animals and ensure they are treated properly and respectfully. Animals have a way of bringing out the best in us! No session August 2.
Registration opens May 31st for all Farm Club programs. Information will be published in the Summer 2021 Rec Guide, May 28th. Prepare by ensuring your Comox Recreation Account is active and up to date here. Please stay tuned for more information.
Covid19 Guidelines
We are excited to welcome our Community back to the Hands on Farm this Summer! To keep everyone safe and healthy, please abide by the following guidelines while visiting our furry friends at the Farm.
Masks are recommended in the barn for public 12 and older without both vaccines
Hand sanitizer/Hand washing is a required before and after visiting
Limits of families/groups in Farm is based on safety of animals, public and summer campers (return to previous operations).  If demand is high for entry, families may be asked to wait.
Hands on Farm Covid19 SafeWork Plan