Recently, John Mang, one of the FHLPA Directors, had a conversation with Val Graham about the origins and history of the Filberg Gift Shop.
Val Graham was a partner and co-owner of Graham's Jewellers, a Courtenay retail institution, and she continues to be a tireless volunteer for the Filberg Heritage Lodge and Park Association – but with some changes on the horizon.
John:  Let's start right at the beginning. I understand there was a false start – a consignment arrangement in the shop, which ended up folding after a couple of seasons. 
Was it your idea? What happened next?
Val:  It was.  Preparations were started early 2011 with meetings with the sitting board at that time.  Most tours of historical site end up at a gift shop and we thought, after the first attempt, it was still a good idea. The board was skeptical, but finally agreed, thinking we would continue with consignment … and I said, no, we won't – it doesn't work.
To get things going, I asked for some seed money – $1500 – and initially said no, but finally agreed to loan us $1,000, which hopefully we would pay back by the end of the first season.
As well, several people were quite enthusiastic, giving us some monetary donations which we referred to as our "mafia fund".  It wasn't a lot – perhaps a few hundred dollars.
John: When did you feel you and the shop were really hitting your stride? 
Val:  I said to Richard, my husband, if we take in $5,000 this year, I will be over the moon.  We ended up with $11,000 and I thought – we're off and running!  It was amazing … we were able to pay back the $1,000 and go on from there.
John: How did the merchandise donations begin – and where did you set up the shop?
Val: We set up in Robert Filberg's office, at the top of the stairs – a very small area … and how did we stock it?  Richard suggested we target people who were cleaning up and lightening their load … that was a brilliant idea.
We spread the word and gathered quite a few donations, and to start off we did buy a few things like candles and napkins – wouldn't be things we would stock now – but pretty soon the donations started to flow in.  People had all sorts of ideas – even selling popcorn (chuckle) which we didn't do!
John: How about staffing?  We're you in there by yourself?
Val:  I was on my own from time to time, but we had good volunteer support right from the start. When the new board came in, and Mo (MacKendrick) became president, we have had 100% support from the board.
John: Moving ahead to the present, how are things shaping up this year, in light of the coronavirus pandemic?
Val: Yes, we are down this year, of course.  Last year was our best year, approaching $50,000!   Sharon Patterson, who adds up our sales, informed us in January we had taken in $249,000 over the nine years.
John:  You've really enjoyed this – it's been fun, hasn't it!
Val: Oh yes, I've enjoyed every minute of it, John.  It's just been a privilege and a pleasure.  As the girls say, it's like we're going to work in our own, private dollhouse!
John: Do you have a noteworthy or perhaps funny story about a sale you can share?
Val: Well …  We had a truly ugly little teapot come in one time.  It was a bulbous, bilious green, and Wendy East said "… you're NEVER going to sell that thing".  I said, yes, we will, but we may have to wait a while."
We put $50 on it, and a lady come in one day who was a collector and I overheard her talking from downstairs.  I said to Wendy, "get your iPhone and show her a collector's picture of that teapot".  After seeing the item on-line, the lady said … "oh, I cannot go home without that".  God-awful thing, John, it really was, but it just shows you, your own personal taste cannot enter into the sale!
John: You must feel good about the community value – and the value to the patrons.
Val: We've had some really lovely objects over the years, but … finding a good home for these beautiful pieces is what really means a lot to me and it means a lot to the person who has donated.  You can say "someone is going to buy this who loves it as much as you or your mother did".
In terms of the community, you know, a really nice, collectable shop is a great addition to the town, to our valley, because the patrons are interested and enthusiastic about it.   We like to set a relaxed pattern when people come in.  The volunteers will say things like "… let me show you this nice piece we've just received" … but not follow them around through the shop, so the customers feel comfortable and enjoy looking at everything.
And … every person that donates is thanked for donating their treasures and how much we appreciate it.
John: How are things going right now, given the pandemic situation?  Is the shop still busy?
Val: Due to the pandemic social distancing requirements, to keep things comfortable and correct, the shop has expanded throughout the lodge and is now filled with all of these beautiful treasures.  I think it has been well received by our customers.
Word of mouth advertising is the best thing we can ever do.  You can buy a little add in the paper for a few hundred dollars, but it pales in comparison to what you get from a happy customer talking to friends.
John: Now that you are stepping back from the lead role, what do you see as the future of the gift shop?
Val: I couldn't be happier about how things have turned out.  I've had some concerns.  I'm 84 now, and going to reach my "best before date" sometime soon. I wanted someone who was going to take this on and make it even better.  And I think we've achieved that with Anne-Marie (Bowen) and Mo (MacKendrick). They have made a commitment of 5-years, that's the kicker.
Anne-Marie had managed the Birks store in Victoria for 9-years, has lots of retail experience – and that's a key.  She knows nice pieces, and is interested.  And Mo has many strengths and deep roots with the organization. I'm so happy about the future of the shop – I'm leaving in the best hands possible.
John: Are you still going to have a role at the shop?  Will you be continuing as curator and specialist?
Val:  Well, I'm going to continue behind the scenes; to collect the inventory, curate values, clean, price and generally get things ready for the store, but I won't be in the shop looking over the shoulders of the new managers!  They have some new ideas – social media plans, new events, however, some things will be the same.  They will continue to have a wish book for people to advise what they are looking for, and we can call them … which has been quite successful!
John: Thank you so much for your time, energy and expertise, Val.  On behalf of the board, I would like to extent our thanks – especially during these troubled times.  The shop has been the saving grace of the organization.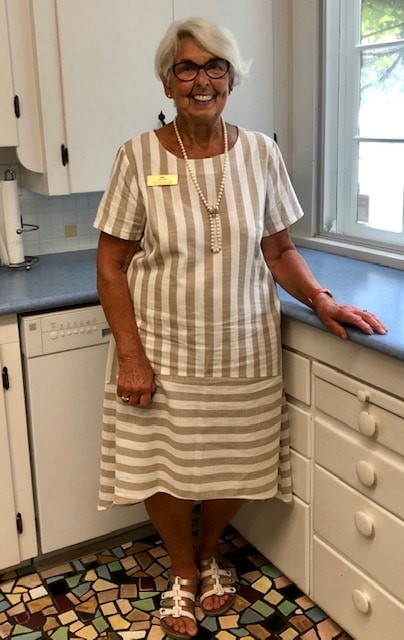 Val Graham Bio
Born in Vancouver in 1936 Val moved to Comox shortly thereafter. She is immensely proud to have spent her entire life in the Comox Valley! Her childhood was spent on Butcher's Road & she attended Comox Elementary School. Val married Richard Graham in 1955 and together they raised 4 children and established Graham Jewellers on 5th St in Courtenay which they owned and operated for over 50 years, still owned and operated by their son Jamie. Upon their retirement, Val & Richard enjoyed many trips to Europe & USA.  
More recently, Val, a long-time volunteer in the community, has been instrumental in opening and establishing the Filberg Gift Shop in Filberg Park. Over the past 10 years since it opened it has evolved into a wonderful little shop full of beautifully curated antiques and collectibles and a major source of revenue for the Filberg Association.