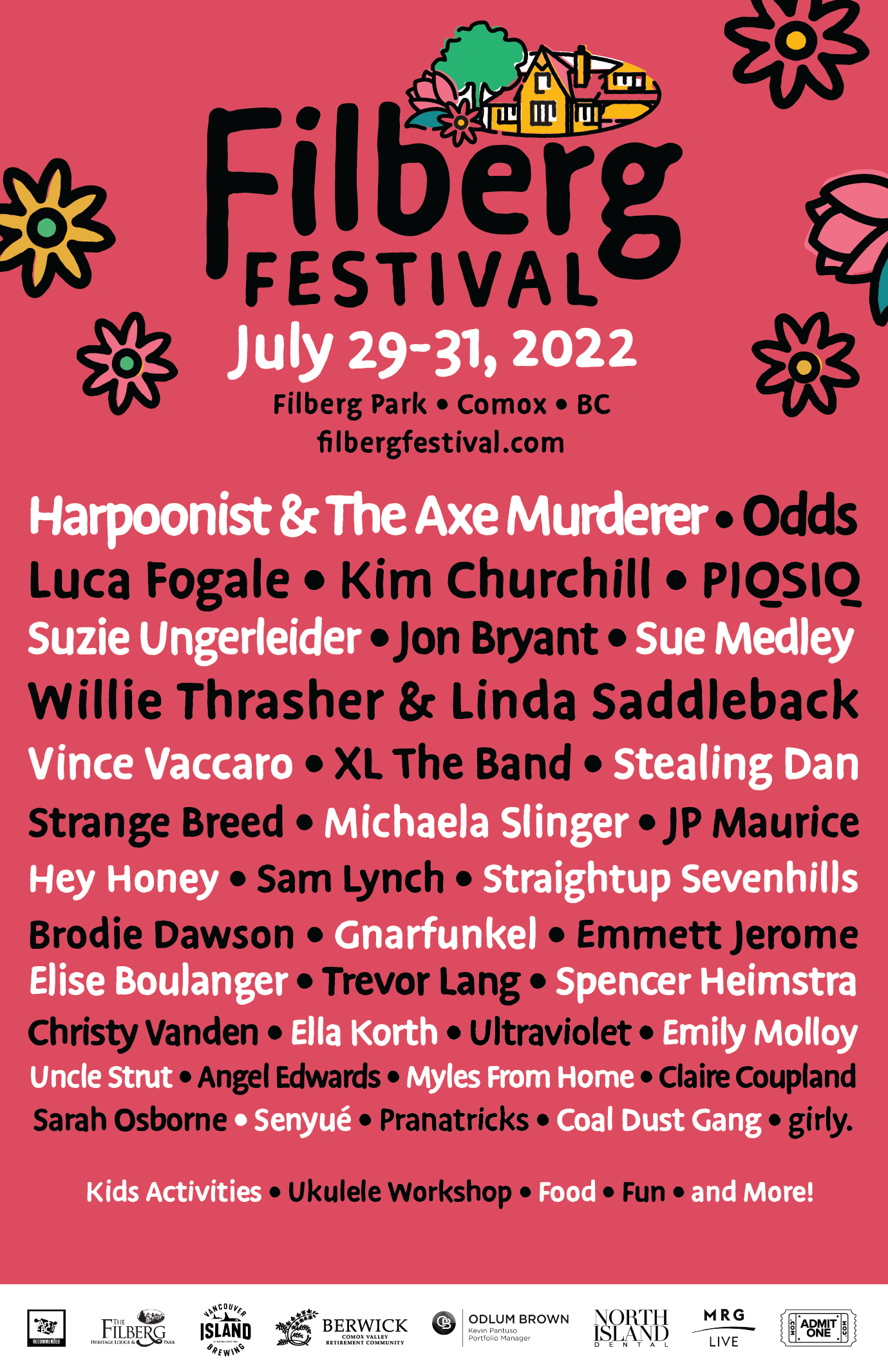 FILBERG FESTIVAL ANNOUNCES 2ND WAVE OF ARTISTS PLAYING AUGUST LONG WEEKEND AT FILBERG PARK.
Tickets are on sale for the return of Filberg Festival at the historic Filberg Park. Both Weekend and Single Day passes are available at filbergfestival.com.  
Filberg Festival returns July 29 – 31, and is pleased to announce that the full lineup of musicians and artisan vendors is now complete.
Direct support has been added for bands, and we are pleased to showcase some local BC favourites including Suzie Ungerleider, Ultraviolet, Emily Molloy, Sarah Osborne, Ella Korth, Angel Edwards, Myles From Home, Uncle Strut, Claire Coupland, girly., Pranatricks, Coal Dust Gang, and Senyuè.
These artists join The Harpoonist & the Axe Murderer, Odds, Kim Churchill, Sue Medley & Friends, Luca Fogale, PIQSIQ, Vince Vaccaro and many more. There will be two two stages, The Rotary Stage amongst the trees and Garden Stage located on the waterfront. Watch for the full festival schedule, which will be announced in the coming weeks! 
New to the festival is the Ukulele Workshop, taking place on the Garden Stage presented by Peninsula Co-op, where we encourage guests to bring their ukuleles to join our interactive set on Saturday Jul 30.  Internationally renowned clinician Peter Luongo will lead these two fun-filled ukulele sessions for both beginners and veteran players! 
Vancouver Island Brewing and Island Life are presenting this year's beer garden, which encompasses the entire festival site, so you can sip on some local favourites while visiting the artisans or enjoying the music. 
The renowned Artisan Market features top crafters, jewellers, painters, and artisans selected through juried reviews. Over 130 vendors have been selected, and you can browse those who will be taking part on our Market page on our website.  
Filberg offers family friendly fun, with the Hands on Farm operating as part of the festival, plus the Enchanted Forest offers crafts for the little ones, brought to you by Odlum Brown, plus hula hoop, juggling and diabolo lessons! 
EVENT DETAILS

What: FILBERG FESTIVAL – 38th Edition

Where: Filberg Park, 61 Filberg Road, Comox BC

When: Friday, July 29 – 11 am to 8 pm
Saturday, July 30 – 11 am to 8 pm
Sunday, July 31 – 11 am to 6 pm

Artists: Friday: Odds, Luca Fogale, Strange Breed, Vince Vaccaro, Gnarfunkel, JP Maurice, Sam Lynch, Elise Boulanger, Christy Vanden, Brodie Dawson, Luongo Family Ukulele Trio, Ultraviolet, Emily Molloy, Sarah Osborne, Ella Korth.                                                                                                     Saturday:  Harpoonist & the Axe Murderer, Sue Medley & Friends, PIQSIQ,  XL the Band, Willie Thrasher & Linda Saddleback, Uncle Strut, Myles From Home, Hey Honey, Straightup Sevenhills, Claire Coupland, Pranatricks, Coal Dust Gang. Sunday: Kim Churchill, Suzie Ungerleider, Jon Bryant, Michaela Slinger, Stealing Dan, Trevor Lang, Emmett Jerome, Spencer Heimstra, Senyuè, Girly. 
Artisan Highlights: Over 130 of Western Canada's top crafters, painters and more including:
61 Nickel Guitars – Metal Work – Three string cigar box guitars and other musical oddities that are handcrafted and unique in the overall design and tone.  They are all real instruments and electric guitars made for  beginners and professionals alike. They are quirky, funky, and definitely original! 
Art by JSW – Jacqueline is primarily a self-taught artist and has enjoyed working in acrylics. Living close to Fish Creek Park has provided her with an appreciation for nature as well as offering her an array of inspiration.  Her artwork continues to evolve as she enrols in various workshops held by well-known Canadian artists.  She has recently had the opportunity to work with several wildlife photographers as her inspiration for her most recent works. She enjoys the challenge of capturing on canvas, the emotion, spirit and soul of her subjects through her interpretation of these images.  
DORÈ – Jewelry –  Born from a love of nature and art; Lisa's jewellery is designed with sharp reference to sculpture and the natural world. Her pieces take inspiration from intricate patterns in nature, flourishes of vintage surrealism; imbued with folklore and spirituality. Jewellery with soul, heirlooms to last a lifetime. Quality materials and mesmerizing vision, culminates in jewellery that is truly distinctive one of a kind.