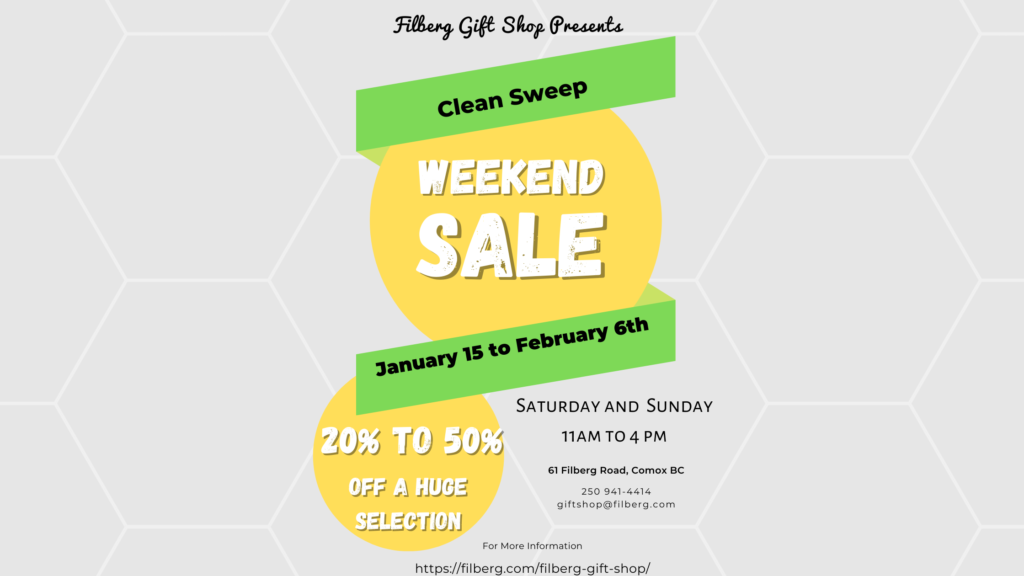 Don't miss our Clean Sweet Sale on now, 20% to 50% off items in the Lodge
and 20% to 40% off items on the online store.
Sale runs Saturday's and Sunday's 11am to 4pm from January 15 to February 6, 2022
Welcome to the Filberg Gift Shop ~ Vintage with style!
Open 11 am to 4 pm Saturday and Sunday
In 2010/11 when a group of passionate Filberg volunteers and members felt that a Gift Shop devoted to raising money to support the restoration, maintenance and operations of the Park and Lodge would be a valuable addition to the Association's ongoing fundraising efforts, a gift shop was established.
A call went out to the public for donations, a roster of volunteers was established, and the shop opened in May of 2011. The rest, as they say, is history. At the end of the two-year trial period the gift shop had proved so successful that it was incorporated into the profile of the Lodge and Park as a dependable revenue stream.
The Gift Shop is now open year round and has expanded to both floors of the Lodge. The tables in the dining and breakfast rooms are beautifully set with china that is for sale and vignettes and displays of fine china, crystal, silver, linens and art adorn every room. Each year of operation sees the returns to the Association increase and the Gift Shop is not only a major source of funding but a popular shopping destination in the Comox Valley. The experience of shopping for curated vintage and collectable items in a beautiful heritage building is unique and memorable.
The community continues to support the Association and the Gift Shop by donating their once cherished pieces for the Gift Shop to sell, by shopping in the Gift Shop and by volunteering. We cannot thank the Comox Valley enough for their generosity and support.
Do you have items or time to donate? Please drop us a line giftshop@filberg.com