FILBERG PARK
The extensive gardens have many captivating features. Nine landscaped acres, with a stream running through the natural ravine provide a perfect setting for a variety of plantings such as maples and magnolias. Rare and exotic trees from many parts of the world include a selection of stately oaks, London Planes, Atlas and Deodora cedars, pines of many species and a variety of other mature trees.
There are beds of various annuals and perennials, and hundreds of rhododendrons, many from the famous collection of the Greig family. Heathers, spring bulbs, flowering shrubs and dwarf conifers thrive in the fine microclimate. The park is a wonderful place for a peaceful stroll or an afternoon picnic.
*Please note that the Park is closed the week leading up to the Filberg Festival, as well as the week after the Festival.
The Filberg Heritage Lodge and Park is part of the Vancouver Island Garden Trail, a self-directed tour of a diverse variety of stunning Island gardens.
You may also enjoy the Comox Heritage Walk for interesting self guided tours of Comox and the Comox Valley
THE TOTEM POLE
TLA WA SINTS GUY U LAS
(Strength from our ancestors)
Created and carved by Richard Krentz, a renowned local carver, the totem captures the spirit of Comox ancestry and the cultural pride of its native people. The four figures, Thunderbird, Sunman, White Whale (Queneesh) and Bear are the crests of the four main families of the Comox native people. A generous donation by Gordon and Ivy Wagner, the pole was erected in June 1994 and stands on an ancient Indian midden overlooking Goose Spit and the Comox Glacier.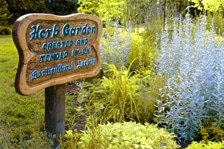 HERB GARDEN
Just above the Filberg Summer Kitchen on a sloping hill, you will find a charming herb garden, inviting to both the eye and the nose. The garden is lovingly planted and maintained by the Comox Valley Horticultural Society. This aromatic treasure thrives because of their generous donation of time and plants.
THE LIZ STUBBS CUTTING GARDEN
Situated just below the 
Filberg Summer Kitchen
 and adjacent to the Boat House is the Liz Stubbs Cutting Garden. Long time Comox resident and Filberg Park supporter, Liz Stubbs established this cutting garden to grow flowers for all to enjoy.  Carrying on is a team of volunteers who donate their time and energy in growing a variety of flowers from seeds to blossoms during the growing season. The flowers are used in beautiful arrangements throughout the Lodge and fresh flower bouquets are available for purchase from June to September at the
Filberg Gift Shop
and outside of the Summer Kitchen. The Cutting Garden Volunteers also create colourful dried bouquets for annual FHLPA events such as the 
ApplePress Party
and seasonal swags and botanical arrangements for the
Christmas at the Lodge
 & Holiday Market.  All proceeds from these activities support the ongoing maintenance and operations of Filberg Park.  Follow us on Facebook and Twitter for Cutting Garden updates and fresh flower availability.